Advantages of SC-8608 32mm Rechargeable Pruning Shears with Extension Bar
The electric pruning shears with extension pole can double its battery life with a 16.8V 4AH battery.

Optional HD digital display can show power display and cutting number.

The cutting speed can be controlled freely with a progressive cutting function.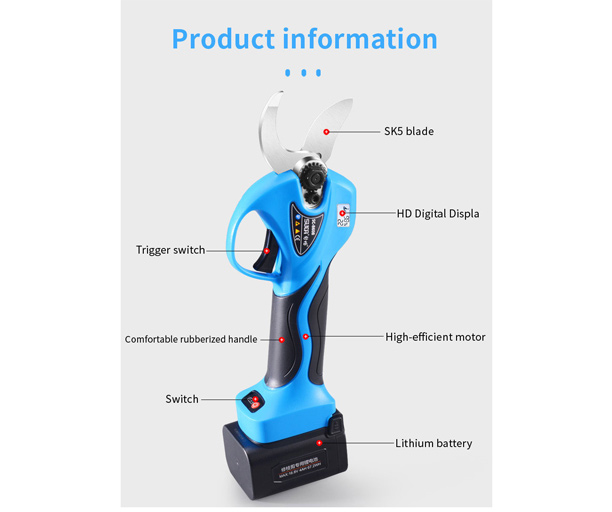 Details of SC-8608 32mm Rechargeable Pruning Shears with Extension Bar
25mm/35mm two cutting diameter available

With 16.8V 4AH long-lasting battery

Comfortable rubberized handle for one-handed operation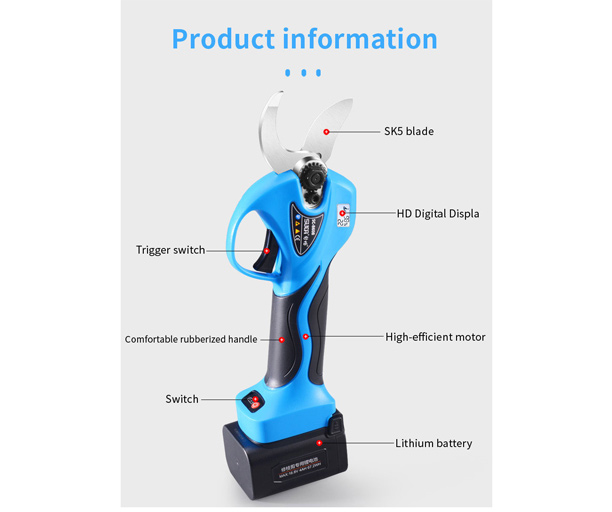 Characteristics of SC-8608 32mm Rechargeable Pruning Shears with Extension Bar
| | |
| --- | --- |
| Item No.: | SC-8608 |
| Cutting diameter: | 0-32mm |
| Max power: | 840W |
| Charger feed voltage: | 110-240V |
| Pruner Weight: | 740g |
| Battery Weight: | 260/360g |
| Li-battery: | 16.8V 2Ah/16.8V 4Ah |
| Working time: | 2-3/4-6 hours |
| Charging time: | 2-2.5 hours |
| Temperature range | -10-50°C |
| Package | 6pcs |
| Ctn size | 57*44*32cm |
How Do Rechargeable Garden Shears Work?
Rechargeable garden shears work by utilizing a rechargeable battery to power the cutting mechanism. Here's a step-by-step breakdown of how they typically work:
Power source: Rechargeable garden shears are equipped with a built-in rechargeable battery. This battery is usually lithium-ion, which offers a good balance between power and weight.
Charging: To use the shears, you need to charge the battery first. This is done by connecting the shears to a power source using a charging cable or by placing the shears on a charging dock. The battery will start charging, and an indicator light might show the charging progress.
Cutting mechanism: Rechargeable garden shears have a motorized cutting mechanism. The motor is powered by the rechargeable battery and provides the necessary force to cut through branches, shrubs, or other greenery.
Safety features: Most rechargeable garden shears come with safety features to prevent accidental operation. These can include a lock button or switch that needs to be engaged before the shears can be used.
Trigger or button: To operate the shears, there is typically a trigger or a button located on the handle. When you squeeze the trigger or press the button, it activates the motor, which in turn moves the blades in a cutting motion.
Cutting blades: Rechargeable garden shears have sharp cutting blades that are designed to cut through various types of vegetation. The blades are usually made of durable materials like stainless steel, and they may have a non-stick coating to reduce friction and make cutting easier.
Continuous operation: Depending on the model, rechargeable garden shears can provide continuous operation for a certain period. Some models may have a runtime of several hours, allowing you to complete your gardening tasks without interruptions. However, it's important to note that continuous use can drain the battery, so it's advisable to recharge it when needed.
Maintenance: Proper maintenance is crucial to keep the rechargeable garden shears functioning optimally. This includes cleaning the blades after each use, lubricating any moving parts as recommended by the manufacturer, and storing the shears in a cool, dry place when not in use.
By combining the power of a rechargeable battery with a motorized cutting mechanism, rechargeable garden shears offer a convenient and efficient solution for maintaining your garden or trimming vegetation.
What Are the Advantages of Using Rechargeable Garden Shears?

Using rechargeable garden shears offers several advantages over traditional manual shears or gas-powered alternatives. Here are some of the key benefits:
Convenience: Rechargeable garden shears are highly convenient to use. They eliminate the need for manual effort, as the motorized cutting mechanism does most of the work. This makes it easier and less tiring for gardeners, especially when dealing with thicker branches or extensive trimming tasks.
Portability: Rechargeable garden shears are typically lightweight and portable. They don't require a constant connection to an electrical outlet or a fuel source like gas. This makes them more maneuverable and allows for greater freedom of movement while working in the garden.
Reduced effort and fatigue: With motorized cutting blades, rechargeable garden shears significantly reduce the physical effort required to trim or prune plants. This is particularly beneficial for people with limited strength or mobility, as they can still accomplish garden tasks without excessive strain or fatigue.
Efficiency: The motorized cutting mechanism of rechargeable garden shears enables faster and more efficient trimming compared to manual shears. The blades move rapidly, making clean cuts through branches and shrubs with minimal effort. This saves time and allows you to complete gardening tasks more efficiently.
Versatility: Rechargeable garden shears often come with different blade attachments or adjustable cutting lengths, allowing you to adapt them to various tasks. Whether you need to trim hedges, shape bushes, or cut through thicker branches, these shears can be versatile tools that cater to a range of gardening needs.
Environmentally friendly: Rechargeable garden shears are more eco-friendly than their gas-powered counterparts. They don't emit harmful fumes or contribute to air pollution. Additionally, rechargeable batteries can be reused multiple times, reducing the consumption of disposable batteries and minimizing waste.
Cost-effective: While rechargeable garden shears may have a higher upfront cost compared to manual shears, they can save you money in the long run. They eliminate the need to purchase fuel for gas-powered tools, and you won't have to continually replace disposable batteries. By recharging the battery, you can use the shears multiple times, reducing ongoing expenses.
Lower maintenance: Rechargeable garden shears generally require less maintenance than gas-powered tools. They don't require oil changes or regular fuel refills. Maintenance usually involves cleaning the blades, keeping the tool free of debris, and ensuring the battery is properly charged.
In summary, rechargeable garden shears provide convenience, portability, efficiency, and versatility while reducing effort and fatigue. They are environmentally friendly, cost-effective, and require less maintenance compared to other types of shears, making them a practical choice for gardeners of all skill levels.
How to Maintain Rechargeable Cordless Secateurs?
Proper maintenance of rechargeable cordless secateurs is important to ensure their optimal performance and longevity. Here are some maintenance tips to keep in mind:
Clean the blades: After each use, remove any debris or sap that may have accumulated on the blades. Use a brush or a cloth to wipe them clean. This prevents build-up and maintains the sharpness of the blades.
Lubricate moving parts: Regularly lubricate the moving parts of the shears as recommended by the manufacturer. Apply a small amount of lubricant to the pivot points and other areas where metal parts interact. This helps to reduce friction and ensures smooth operation.
Check for damage: Inspect the shears for any signs of damage or wear. Check the blades for chips, nicks, or dullness. If you notice any issues, consider replacing the blades or taking the shears to a professional for repairs.
Recharge the battery: Keep the rechargeable battery properly charged according to the manufacturer's instructions. Avoid overcharging the battery, as it can reduce its overall lifespan. If the shears have been stored for a long time without use, make sure to recharge the battery before the next use.
Store properly: When not in use, store the shears in a cool, dry place. Protect them from moisture and extreme temperatures, as these can affect the battery's performance. Some shears may come with a storage case or sheath, which can provide added protection.
Follow safety guidelines: Adhere to the safety guidelines provided by the manufacturer. This includes using the shears only for their intended purpose and avoiding excessive force or improper handling. Also, remember to engage any safety locks or switches when storing or transporting the shears.
Read the user manual: Familiarize yourself with the user manual that comes with the rechargeable cordless secateurs. It contains specific instructions and recommendations from the manufacturer regarding maintenance, cleaning, and any unique features of the shears.
Professional servicing: If you encounter any major issues or if the shears are not functioning properly, it's advisable to seek professional servicing. They have the expertise to diagnose and repair any technical or mechanical problems.
By following these maintenance practices, you can ensure that your rechargeable cordless secateurs remain in good condition, perform optimally, and have a longer lifespan.