Advantages of SC-8601 25mm Small Electric Pruning Shears for Trees
Long-lasting life: The small electric garden shears feature a removable large capacity lithium battery that allows for up to 3-4 hours of working time.

Wireless freedom: The small electric pruning shears are portable and easy to operate wirelessly, making them more suitable for long hours of outdoor work.

Lightweight: Only weighing 0.9kg, the small electric garden shears can work long hours without straining your hands.

Powerful: It is easy to prune a hard branch with small electric pruning shears.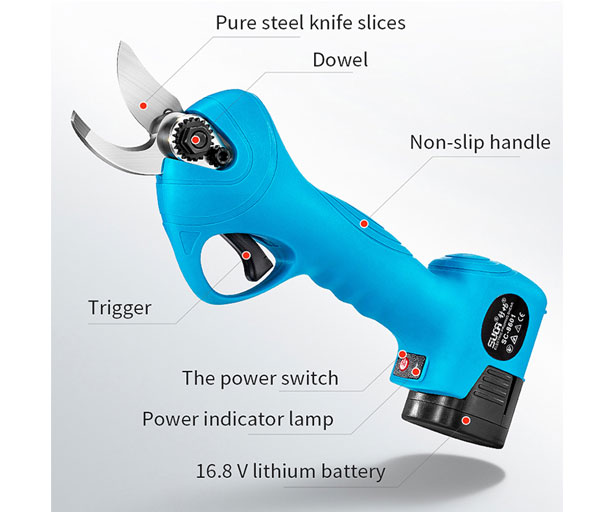 Details of SC-8601 25mm Small Electric Pruning Shears for Trees
Working light: Power supply working quantity display

SK5 alloy steel tool head: High hardness and durability

Safe start design: Secure against incorrect operation

Ergonomic handle: The thick and thin structure conforms to palm engineering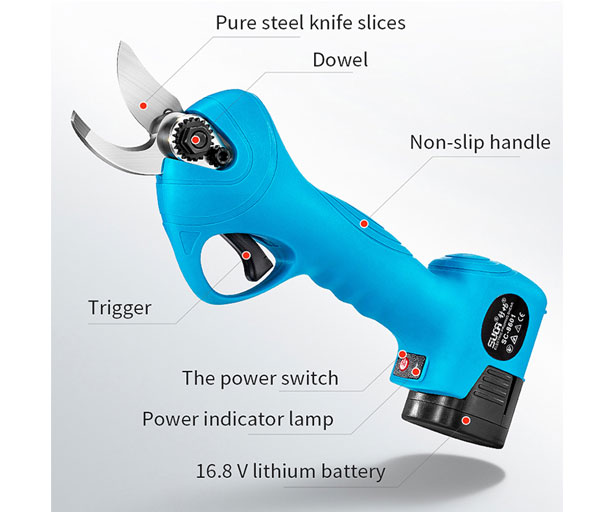 Characteristics of SC-8601 25mm Small Electric Pruning Shears for Trees
| | |
| --- | --- |
| Item No.: | SC-8601 |
| Cutting diameter: | 0-25mm |
| Max power: | 500W |
| Charger feed voltage: | 110-240V |
| Pruner Weight: | 690g |
| Battery Weight: | 220g |
| Li-battery: | 16.8V/2Ah |
| Working time: | 2-3 hours |
| Charging time: | 1.5-2 hours |
| Temperature range: | -10-50°C |
| Package: | 10pcs |
| Ctn size: | 62*36.5*24cm |
How Do Small Electric Garden Shears Work?
Small electric garden shears are powered by electricity, which allows for easy and efficient trimming of plants and shrubs in the garden. These shears work by using a motor to move the cutting blades back and forth rapidly, allowing for quick and precise cutting.
The blades of the shears are made of durable, sharp materials such as stainless steel, and are designed to make clean cuts through branches and stems. The motor is powered by an electrical cord that plugs into an outlet, or by a rechargeable battery that is installed in the shears.
To use the shears, simply hold them in your hand and press the trigger or button that activates the motor. The blades will move rapidly, allowing you to trim and shape your plants with ease. Some models also feature adjustable blades that can be set to different angles, allowing for more precise cuts in hard-to-reach areas.
Overall, small electric garden shears are a convenient and efficient tool for maintaining your garden and keeping your plants looking their best.
What Should Be Considered When Choosing Small Electric Garden Shears
When choosing small electric garden shears, there are several factors to consider to ensure that you select the right tool for your needs. Here are some things to keep in mind:
Blade size and shape: Look for shears with blades that are the right size and shape for the plants you will be trimming. Some models have blades designed for specific tasks, such as shaping hedges or pruning trees.
Cutting capacity: Consider the maximum cutting capacity of the shears, which refers to the thickness of the branches or stems that they can cut through. Make sure the shears can handle the size of the plants you will be trimming.
Power source: Decide whether you want shears that are corded or cordless. Corded shears have unlimited power but are limited by the length of the cord, while cordless shears offer more freedom of movement but may have a limited battery life.
Ergonomics: Look for shears that are comfortable to hold and use for extended periods of time. Consider the weight, handle design, and overall balance of the shears.
Durability: Choose a model that is made of high-quality materials and has a reputation for lasting durability. Look for shears with blades that are made of durable materials such as stainless steel.
Price: Consider your budget when selecting electric garden shears, as prices can vary widely depending on the model and features. Compare prices and features of different models to find the best value for your needs.
Overall, choosing the right small electric garden shears will depend on your specific needs and preferences. Consider the factors above to find a model that will make your gardening tasks easier and more efficient.